Product update

Terms & Consent

This is a new function in your survey settings and will include a confirmation of consent in your survey.  At the start of the survey, the respondent will be prompted to consent to the terms of your survey.

Note: If you have sent a survey with an identifier (e.g. Login or E-Mail send-out), respondents have the option to go back into the survey even after they have finished the survey. You can, therefore, have fewer answers today than you had yesterday.


What will this mean for you as a Netigate customer?
In line with GDPR you are collecting respondent´s consent that you work with their data. We recommend that you write a clear message, why you are collecting their data and how you are going to use it.
More information: Terms & Consent
Product update

Export Personal Data

Export personal data is a function in the Netigate account settings. On this page you will be able to search for an individual respondent's e-mail or telephone number to view existing- or export all personal data that you have saved about that specific respondent. You can also delete saved information about any respondent that you have sent surveys to in the past.

Note: Deletion is irreversible!

What will this mean for you as a Netigate customer?
In line with GDPR, if a respondent wants you to delete all personal data about them you can easily find their data and delete it. This will remove all information connected to the respondent. This action is irreversible and you will not be able to restore any of the deleted data.
More information: Export Personal Data
Product update

Data Retention Settings

In line with GDPR, Netigate has introduced the new administrator setting called Data Retention. You can find them in your account settings as well as in your survey settings. They allow you to set part deletion and full deletion dates for data you store through your surveys.


What will this mean for you as a Netigate customer?
With this function, you are in control of the data you store of your respondents. Part deletion or full deletion allows you to conduct surveys and determine the timeframe after which chosen information will be deleted. Read the support articles to avoid deleting data you didn´t want to delete. Note: Data deletion is irreversible!
More information: Overview – Data Retention
Product update

Survey export

Survey export is a new page where administrators can see and export lists of all conducted surveys. It is possible to filter the list and choose which columns to show. Columns are movable and sortable. The list can be exported to Excel or as PDF.

What will this mean for you as a Netigate customer?
You have a great new way to get an overview of all your surveys and work with it or share it easily in different file formats.
Note: This feature has to be activated. Contact your account manager for more information.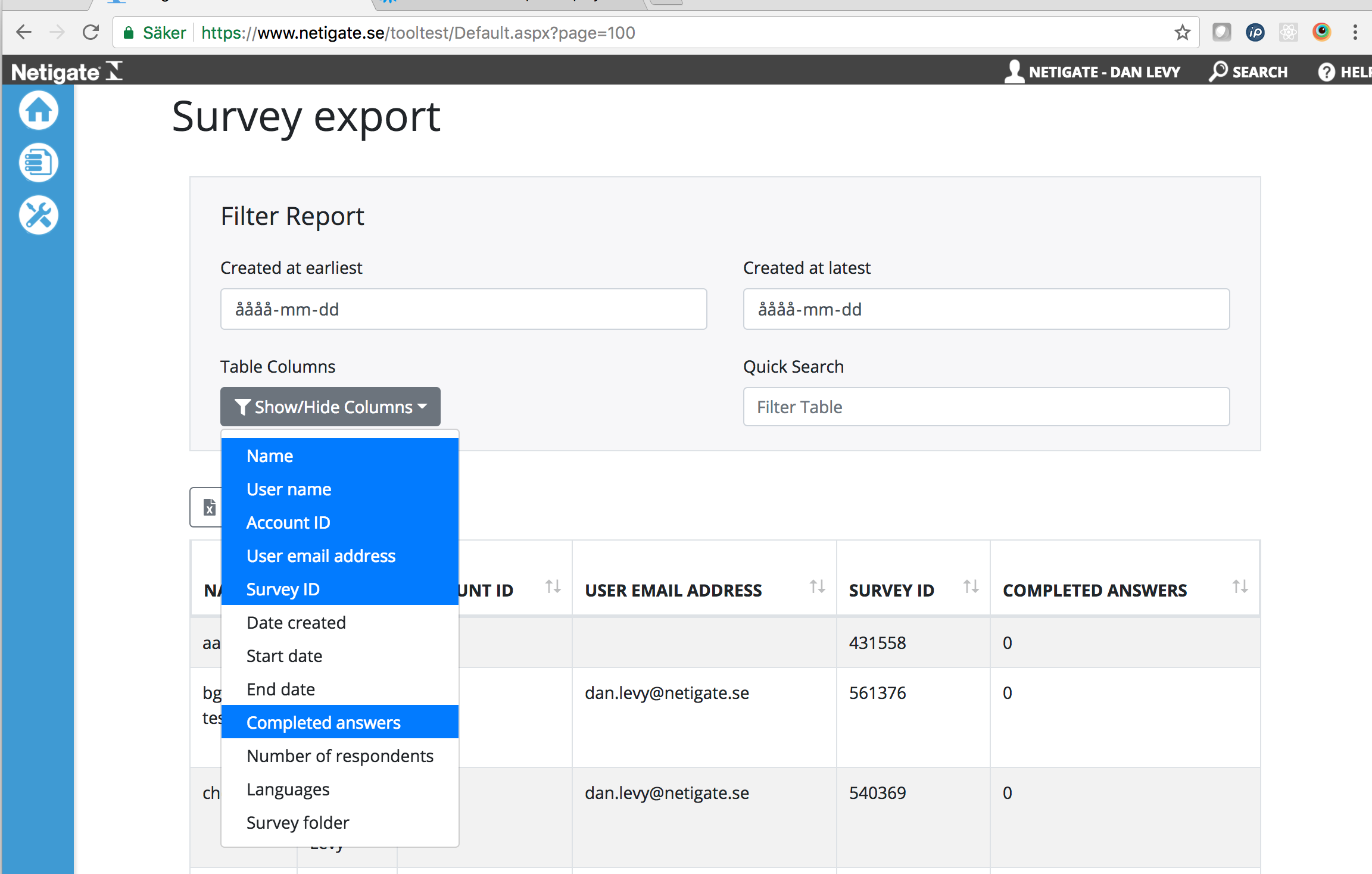 Product update

Star rating

A first version of Star rating questions can now be found in the Question meny. A star rating question is shown as a bar chart in the report section.
Available settings: Scale, Required, Weight.

What will this mean for you as a Netigate customer?
You can start using this new question type and spice up your surveys. Simply drag and drop it in the creation part of your survey.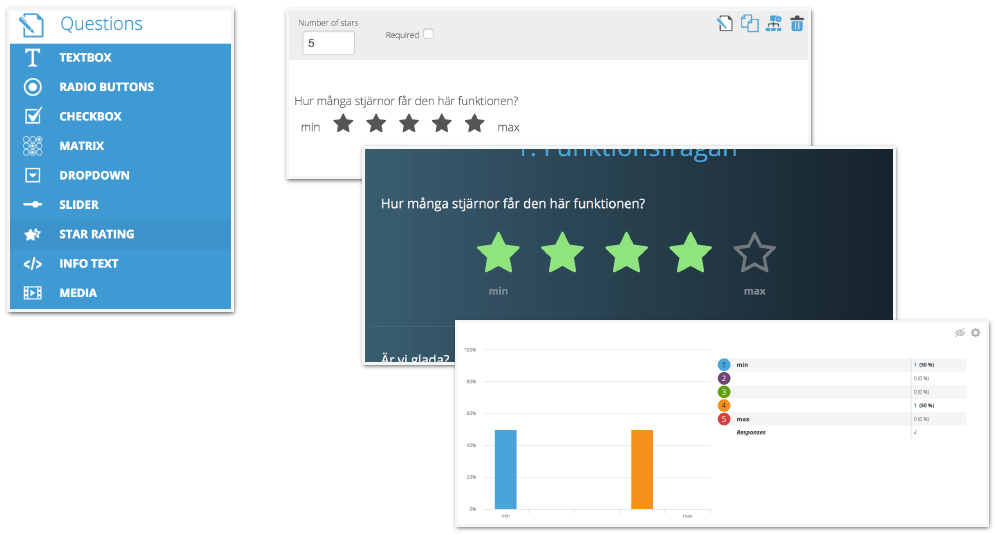 Product update

Survey progress

The survey progress bar has been updated to show percentages also in text.

What will this mean for you as a Netigate customer?
This feature is optional for each survey – you can choose to activate it for a survey in your settings.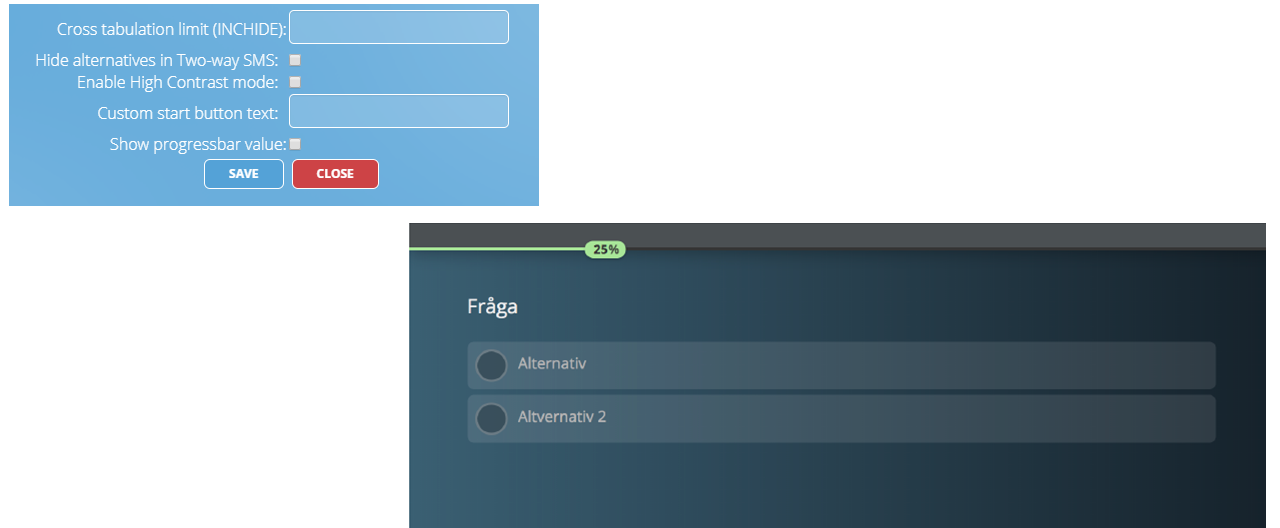 Product update

Login credentials in mail send out

It is now possible to let respondents choose if they want to use the survey link or go to a login page and use login credentials. At this point, it is done manually by adding custom parameters in the send out mail text.

The parameters are
¤survey¤
¤email¤
¤pass¤

What will this mean for you as a Netigate customer?
If you want to make use of this feature you will have to insert the parameters as described above. The feature gives respondents security that the survey is trustworthy. It provides respondents who are concerned about direct links with an alternate sign-in.

Example:

Product update

Remove formatting when copy/paste

To avoid errors and increase usability, text copied from external sources and pasted into the tool will now be stripped of HTML. This includes style and images. Also, when in HTML-mode, other buttons are now also disabled.

What will this mean for you as a Netigate customer?
No action from you is required. This update serves as additional security feature; malicious Javascript etc. cannot be accidentally copied. Further, it ensures that the email looks exactly as you expect it to and will be supported by all browsers/email providers. After copy-pasting text into the email template, you can still format it yourself.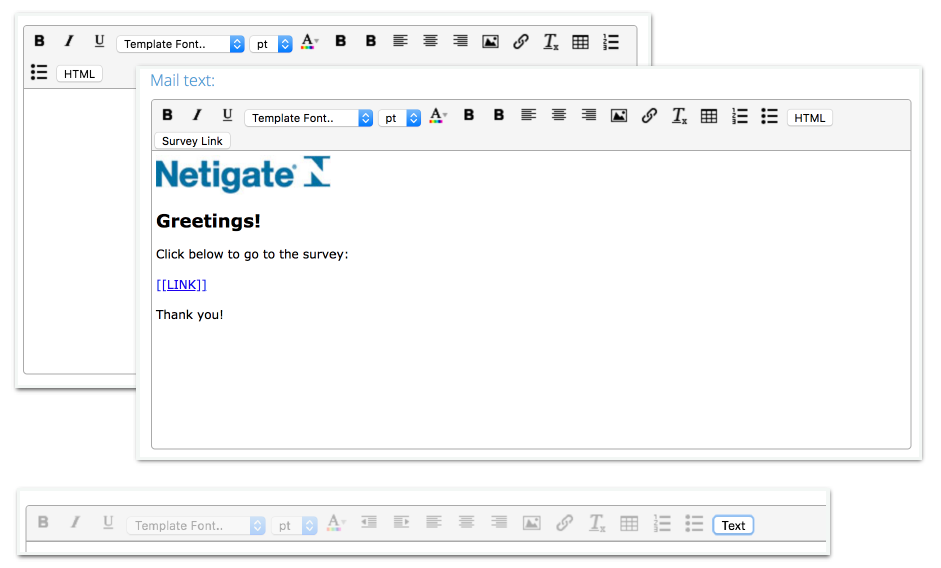 Product update

Netigate server maintenance and server move

The second phase will occur during Sunday the 4th of February 2018 to continue the migration of all our services on the Swedish Netigate server.

What will this mean for you as a Netigate customer?
This move will not imply any technical changes or implications for you as a user or customer, unless you have an email SPF record, Customized Solution or API.

We do not anticipate any interruptions to our service, although there will be ongoing work the entire day and we strongly recommend you to not schedule any survey send-outs during the day for phase two. Response rates on surveys are always highest around the time survey invitations go out.

If you have any questions, do not hesitate to contact our support at +46 (0)8-612 04 10
Product update

Flag questions & enable survey feedback

We have users on all levels. Some of them work fulltime with conducting surveys and some of them aren't as experienced. We have introduced a new feature to help our users build crisp surveys with questionnaires of high quality, regardless level of expertise.

Flag questions opens the door to knowledge exchange. The functionality adds a flag next to each question in the respondent interface. So, when answering the respondent can easily click the flag and comment on the question in a predefined email.