Export reports
Where do I export my reports?

To export your survey results you will need to click Export in the menu in the top of the report page. This will open a menu containing all export options that are available for your survey. There are five different report types to use for your export.
Just click on the desired report type to select what you wish to include in the specific export.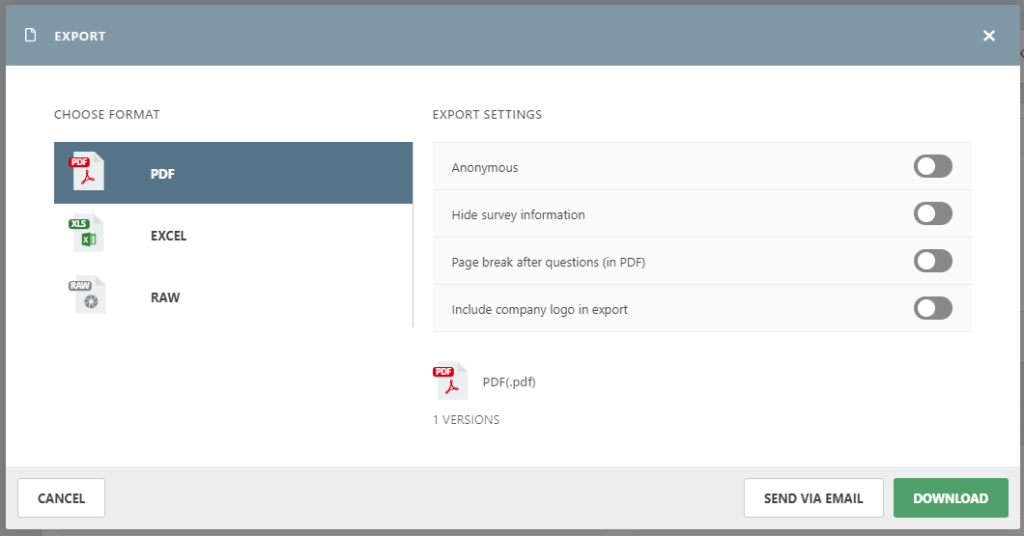 PDF
Anonymous: Makes all the answers in the report anonymous when you look at the result.
Hide survey information: Will hide the information-bar containing "Days left", "Days active", "Answers", "Answers %" and "Completes" etc. from the exported file.
Page break after questions (in PDF): Adds a page break in the PDF after each of individual question.
Include company logo in export: Personalises the report with the company logo.
Excel
Export the report as an aggregated result to Excel.
One sheet per question: Adds an additional sheet in the Excel file for each of the individual questions.
Include open text answers: Will add all individual free text answers to your exported Excel file.
Include charts: Adds charts to your questions in the exported Excel file.
Raw Data
Export your result into a RawData format for Excel. This excel file contains three tabs; Values, Labels and Weights.
Values: Displays the answers in numerical values. The alternatives are replaced with numbers for the number of what response alternative the respondent have answered.
Labels: Displays the answers in text form. The answers are presented in the same format as they are in the survey report.
Weights: Displays the results in weighted form. One weighted questions the raw data will display the number that is weighted to the specific response alternative that the respondent have answered.