Filter results
To filter the results, you must have a question with pre-determined response alternatives (radiobuttons, drop-down menu, checkboxes or matrix). It does not work directly with free text questions.
To filter, go to the question you want to base your filter on. For example, if you asked for the respondents' departments, you can filter on a specific alternative by going to the table of the question and clicking on the number of answers for the specific option you want to see.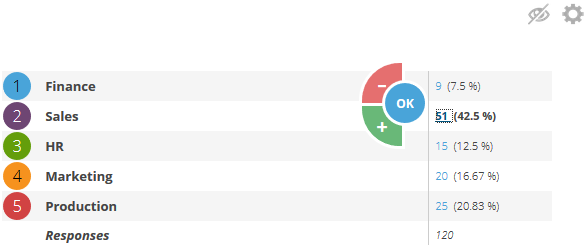 When you click an alternative you will be provided with three options:
Minus (-): When you click the minus option, you choose to exclude the option from your report. This way, you hide the answers from your view. You can choose to exclude multiple options by clicking on multiple alternatives and selecting the minus symbol on each of them.
Plus (+): This allows you to include only answer sets that are registered to this specific alternative. You can also choose to include multiple options by clicking on multiple alternatives and selecting the plus symbol on each of them.
OK: To approve your set filters, click OK. The report will be reloaded and you will see a report based solely on the options you have selected by including and/or excluding.
Note: You do not need to actively exclude other options if you have chosen to include something.
Once you have done your filtering, reviewed the results, and exported your reports, you can go back to the total report by clicking Reset in the toolbar at the top of the page or by clicking on Filters and manually removing them.