Overview – Home
What is this menu?
The first step is to log in to the tool. You do this through the login page with the user credentials you have set. You will get to an overall first page where you navigate between creating surveys and viewing results. Once you have logged in, this is the menu that you will see. From this menu you will be able to navigate your way through the tool.
Where can I go from this menu?
From this menu you have links to the different administrative menus in the tool. The buttons that are visible in the start page are the following:
See results or edit a survey

This option shows a list of all ongoing and completed surveys / surveys that are available to you on your login.
What you see may vary depending on the type of login you have for the tool. This is a setting that is made when creating the login and is done by an account administrator.
Create a survey

If you want to create a survey, click on Create a survey and then choose if you want to copy an existing template or survey through the Copy a survey option. If you want to create it from scratch, click Create a new survey.
Once you have chosen to create, you will go to a menu for naming the survey; this is the name the survey should have within the tool. You can search for the name later in the tool, so it is recommended to make the name clear and simple.
Settings

This is a menu for overall account settings. It is intended primarily for account management. For example, to handle existing users and create new ones, change graph colors, adjust email templates, and manage block lists, but also to create new survey folders and set password rules. What you see may vary depending on the type of login you have for the tool. Please note that not all those options are available for "regular" Netigate users, but their administrator.
Lists & Data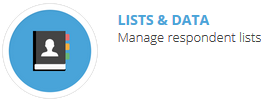 On Lists & Data, you have the option to upload a respondent list and link it to your account. You create this list by renaming the list and uploading an excel file. You can then decide what type of data is inserted: This way you can create a list of respondents that you can then reuse for several different surveys, if needed.
Netigate Design Editor

You can create a design template that you wish to use on your surveys. In this design editor, you can use "point-and-click" to change the graphic elements on their design. Primarily, to change simpler graphic elements such as logos, background colors, and images or more. You can also edit the look of the template directly using the CSS (Cascading style sheets) language, but it is not necessary to use CSS to create a design.
Visit Netigate Success Center

The Netigate Success Center is there to help you find guides, FAQ:s and inspiration for your surveys. There is a number of articles on how to create questions, sendouts and how to work with your reports in the analysis part of the tool. You will also be able to find information about trainings and webinars in the Academy section.
Search and Help


In the top right corner, there is always the possibility to search for a survey and edit or review the result that way, instead of having to search for the survey manually via View Results or Edit Survey.
There is also a help page with short videos on the various parts of the tool, an FAQ , and contact information to our customer service department.
Account activity
At the bottom of the Home page, you will see a brief summary of activity in your account. This data consists of Respondent activity (have you received any recent answers?), Recently saved reports (your last saved reports), and Account stats (how many surveys and reports were created in total?)