Media
When to use?
Media should be used when you need to add images or video clips to your survey.
How to create?
To create a Media element to your survey, you click the option in the menu on the left hand of the screen, it will be added as the last question at the bottom of the page you are currently editing. You will be given an option to specify the question with a description or heading. This field can of course be left blank.
You may upload an image from your computer via the option "File upload" or insert any Youtube or Vimeo video embed URL in the "From URL" option.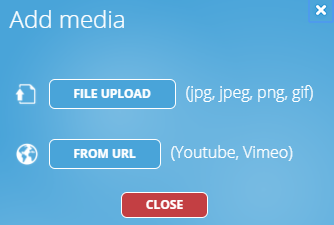 Embedded video clip in respondent view: