Respondent panels
When to use Respondent panels?
The "Respondent panels" option can be used when you, for example, want to conduct market or brand awareness research, or for another reason need help finding respondents for your survey. All you will need to do is submit a form with a request for a set amount of answers and provide your contact information and a Netigate representative will contact you. Here you see some examples of when a respondent panel can prove useful:
You are doing research into a target market.
You need to reach a specific target audience.
You want to identify product or pricing opportunities.
You want to gain insight into your customer demographics.
You want to measure and test brand awareness.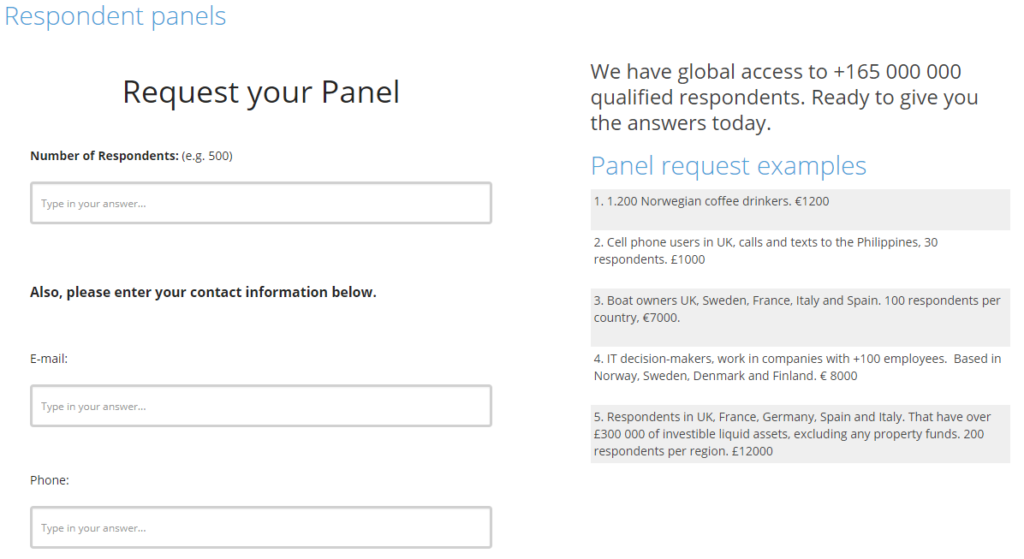 What is a Respondent panel?
A respondent panel is a way to collect answers to a survey from a specific target audience in order to get valuable data. The participants in a respondent panel could be anyone with a computer and internet connection, which means that a wide variety of backgrounds and geographical locations gives you an opportunity to reach very specific target groups. Respondent panels are delivered by external providers and you will get all answers displayed directly in your Netigate account.
The standard for all respondent panels is that you only pay for the answers you receive.
Netigate has agreements for cooperations with multiple panel providers worldwide in order to swiftly deliver to your specific requests.
Why use a Respondent panel?
The reasons for using a respondent panel could be manifold. In many cases, Netigate is used to gain insights in and an understanding of what affects consumers in their choices of products and services (price, treatment and time for example). In case you do not have direct contact with your users/customers, a respondent panel is a really good approach to gain this kind of knowledge.
Many companies choose to do these projects on a regular basis, with a smaller target group. An example would be a weekly survey that is repeated for a set amount of time in order to create an understanding of how seasons and events can affect consumers. This type of survey is called tracking survey.
Contact us
If you have questions about your target group or have any other thoughts or ideas about market research please submit a request or contact us directly at marketresearch@netigate.net and we will assist you.