Step 3: Create list of questions
Once you have set your goals and objectives of the survey that you are planning, it is time to work out the content of your survey. We recommend you to start with deciding how your survey should be set up. Do you want to have one question per page, or do you want to categorize questions into different blocks (for example "Background information", "Leadership" or "Work environment") and insert all questions related to that area? In most cases it is preferred to have your survey sorted into different blocks in order to make the survey shorter and make things easier for the respondents.
You should have your goals and objectives of your survey close at hand when you decide on your survey questions.
There are a couple of rules of thumb when creating your survey questions, things that will tie your survey together in a nice way.
Do's
Keep a common thread

Use the same answer scale. Do not mix the scales but try to use the same scale throughout your survey (excluding the NPS-question).
Avoid inverted questions. All questions should be from low to high or vice versa.
Give opportunities to complete answers with a comment.

Keep it simple

Stick to the subject matter.
Avoid technical terms and words with emotional associations.
Use similar phrasing throughout your survey.

Short is sweet

Only ask questions that you can take action on.
Use pre-defined information about your respondents in order to enable comparisons (Background data)
Dont's
Avoid phrasings that could lead to different interpretations from respondents.
Do not use the word "and" in questions. For example: "What do you think about the price and delivery time of the product?"
Do not ask leading or suggestive questions. For example: "Do you have any problems with your boss?"
What questions do I need?
This is very individual of course, but there are a couple of areas that you will need to consider in order to get a reliable result. In the goals and objectives step you thought about what you wish to achieve with the survey and the questions that you include should reflect this.
To begin with you will need to think about background information. What do you need to know about your respondents in order to make the proper analysis of the results?
Secondly it is important that you have decided on what KPI values that you will measure. Will you measure NPS (Net Promoter Score)? Or are you more interested in measuring CSI (Customer Satisfaction Index) or ESI (Employee Satisfaction Index) for example? Depending on what KPI:s you are measuring it is important that you implement all aspects of this into your survey. And remember to really think it through when deciding what you are measuring because should you need to change KPI in the future you will need to start from zero without any possibility to view results/score over time.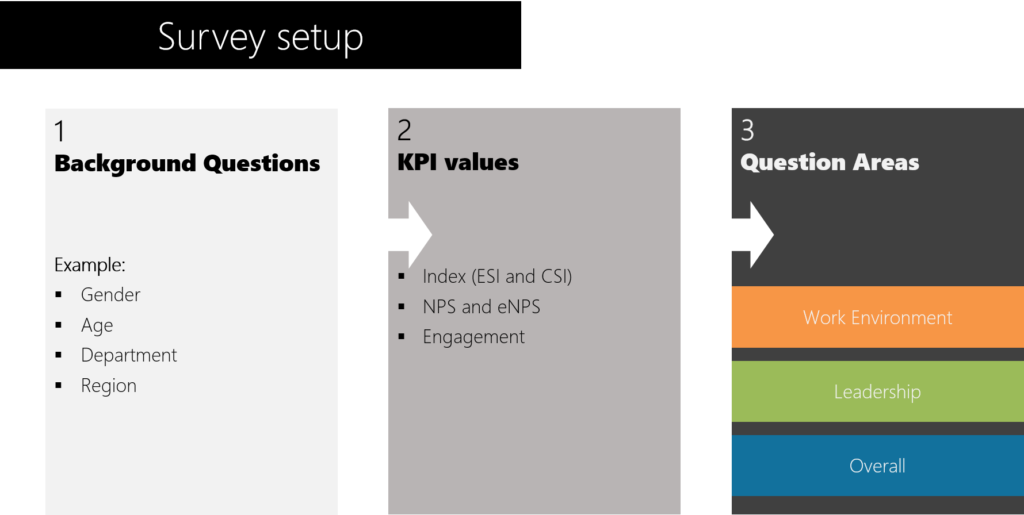 Are there any additional question areas that you will need to include in your questionnaire? Find a suitable way to include these question areas in a way that will not affect the general "flow" of the survey. It should not be an obstacle to answer these question areas but they should be easy to answer and understand for every respondent.
We recommend that you organize your survey in the order that is displayed in the screenshot above:
First you will have the background questions. They will serve as an easy start to get the respondent dedicated to the survey and introduce them to the survey, while you will get the respondent data that you need to analyze your results on group or department levels (for example).
The questions that you will give you your KPI values. For example your NPS question. Since the KPI:s generally is the main number measured and compared through different periods of time it is suggested to have this pretty early in the survey.
Any other question areas that you want/need to include to get the results that you need. Since these areas are often larger and more time-consuming for the respondent it is recommended to order them at the back of your questionnaire. It is also recommended to have a "Don't know / Not applicable" option connected to these questions since it may not be relevant for all respondents to answer, or they may not have the knowledge needed to give an assessment of the question.
TIP: We highly recommend you to involve your colleagues and bosses in the questionnaire before you start building it. Make sure that everyone involved with your project are satisfied and have signed off on the questions before you start creating your survey inside Netigate.
How do I create my survey?
To create your survey you need to follow these steps:
Press "Create a survey", then "Create a new survey". Or select "Copy a survey" if you have a template that you wish to use.
Fill out the information about survey name,  survey description (optional), survey start- and end date. To complete it, press "Create".
You will be directed to the overview of Create and Edit survey. You can read more about this here.
Create questions by pressing the desired question type in the left hand menu. You can read more about the different question types here.
Enter the survey settings to set your desired settings. You can read more about survey settings here.
Test your survey. You can do this by pressing or by using the option "Testlink" on the distribution page. You can read more about testing your survey here.
Go on to Distribution to initiate the publication of your survey. You can read more about Distribution here.
Select your desired distribution channel in the left hand menu. You can read more about how to create the different channels here.
Make sure your survey is activated. If it is not activated, there will be no answers submitted to the survey. Read more about Activation here.